Guarantee & Return Policy
Special COVID 19 Policy
Due to COVID-19, we cannot accept returns on certain items, including food and clothing. Non-plant returns must be made within 14 days of purchase. As the situation changes, we will update our policies accordingly. Thank you for supporting our small business!
Guarantee
Your happiness is important to us. We will try our best to make you happy, and we will do what we can to make things right.
We stand by the plants that we sell and offer a one year limited warranty on trees and shrubs and a six month warranty on perennials and house plants.
Annuals and single-season plants are not covered by this warranty.
Plants on close-out or "all sales final" plants are not covered by this warranty.
All plants must have been watered and cared for properly.
The guarantee is void for plants that were subjected to excessive heat or cold or acts of nature beyond our control.
In most cases, we will attempt to replace the plant with the same type of plant, but in some cases, if the plant is unavailable we may need to issue store credit.
All returns must be accompanied by the original receipt.
If your plant is unhappy, please talk to us! We might be able to save it before it's too late! Be sure to bring in a few photos of your sick plant.



Return Policy

All returns and exchanges must be accompanied by the original receipt and must be completed within 30 days of purchase. Returns for live plants must be completed within 14 days of purchase.
Plants being returned or exchanged must be in healthy saleable condition. Other items must be in clean, saleable condition.
An exchange, store credit, or return will be issued only for the amount paid at the time of original purchase.
If no receipt is available, an exchange may be accepted with management approval. We reserve the right to refuse an exchange without a receipt.
All sales are final on merchandise on sale.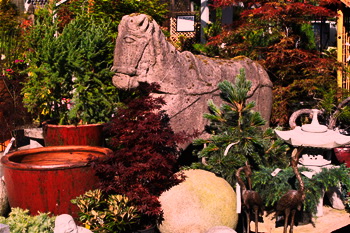 Fall and Winter Hours:
Monday through Saturday:
9:00am to 5:30pm
Sunday:
10:00am to 4:00pm
Closed Easter Sunday, July 4th, Thanksgiving,
December 25 & 31, January 1st.
Email us at:
info@bainbridgegardens.com