Fall/Winter hours start October 1. Mon-Sat 9:00am-5:30pm, Sun 10:00am-4:00pm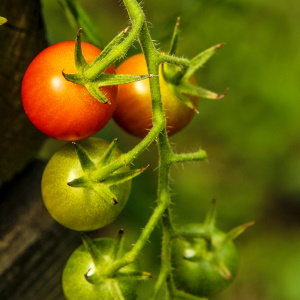 GET YOUR GARDEN READY FOR FALL
We love fall. Fall is about enjoying the effort you put into your garden. Harvesting fruits. Admiring the growth of your plants. It's also about getting ready for next year. Planting onions and garlic. Preparing your soil. Planting trees and shrubs so they come out stronger in the spring.
Harvest Don't forget to harvest your vegetables and fruits when they are at their peak. Enjoy the work you've done to get fresh fruits and veggies! Oh, and if you have a few tomatoes that don't quite get ripe, well, fried green tomatoes are really quite delicious!
Refresh Add some fresh color to your garden. Pansies, mums, and ornamental cabbage are in, and consider adding some textures to your containers, such as wintergreen or grasses. And rudbeckia, anemone, joey ptilotus, and asters are blooming now.
Plant Fall is great time to plant trees and shrubs. The cooler weather is less stressful on many plants, and getting them in the ground now gives their root systems a chance to establish themselves. Spring bulbs (daffodils, tulips, crocus, et al) are in and should be planted soon. Garlic is in and ready to go into the ground!
Prepare Your lawn, that is. Mid-September through mid-October is a great time to fertilize, over-seed, and mulch. The ground is still warm (NW grass seed germinates when the ground is 55F or warmer) and the rains naturally keep the ground moist.

| | | |
| --- | --- | --- |
| Apply lime to discourage moss | Lilly Miller Super Sweet | 25lb bag covers 2000 sqft |
| Apply fertilizer | EB Stone Lawn Food | 20lb bag covers 2000 sqft |
| Overseed or patch areas | Supreme Blend (full sun) or Show and Shade Blend (shade or sun) | 2lb bag covers 2000 sqft for overseeding |
| Mulch | EB Stone Top Coat | 1.5 cuft bag covers 72 sqft with 1/4" layer |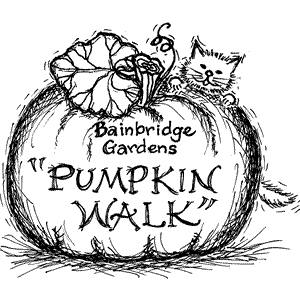 DO THE PUMPKIN WALK

Open now through the month of October.
The Pumpkin Walk is back for its 30th year (wow)! If you're not familiar with it, The Pumpkin Walk is a family-friendly event that goes on throughout October.
Our trail through the woods has hundreds of decorated pumpkins and larger vignettes. In addition there are kid-friendly photo areas and fun stuff for the little ones.
Much of the success of the Pumpkin Walk is due to contributions by our customers! Last year, customers added well over 400 hundred pumpkins to our trail!

The Pumpkin Walk is free. We do accept donations to the Bainbridge Island Boys and Girls Club. This event benefits our local club.
Every Saturday, we will have a food truck!
Battle Point BBQ will be here October 7st, 14th, and 28th.
Sauced will be here October 21st.

In addition, Sweet Dahlia will be here on Sunday mornings (Oct 8th, 15th, and 22nd) to provide coffee and hand-dipped donuts!
For more details on the Pumpkin Walk and how you can add your own pumpkins to the trail, click here.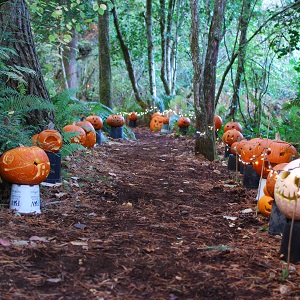 FALL CALENDAR

Mark your calendar. We have a number of fun fall events coming up.
The 30th Annual Pumpkin Walk is here. Come in during the month of October to check out the pumpkins on our trail and add your own creations.
Our Holiday Open House is Saturday, November 4th. Use the coupon in the newsletter we sent out for 40% off any single, regular-priced item in the store (indoors or outdoors). Check out Donna's new holiday decorations. We had fun last year giving out grab bags to the first 100 customers.
Shhh...there's a big secret plant sale on November 5th...We'll let you know a bit more soon...
Wreathmaking starts on November 4th and continues until December 23rd. Book your reservation soon to hold your spot. Certain weekend days are very popular, so a reservation is necessary.
The After Hours Christmas Shopping Event is back on December 7th, from 6pm-8pm. There will be some great deals on holiday items and some snacks too! Wreath machines will be open late that day.
Fall decor is here. Pumpkins, straw bales, corn stalks, and more!
SAFETY POLICIES AT BAINBRIDGE GARDENS
Face masks are optional throughout the nursery. We ask that if you are feeling ill and cannot wear a mask, please stay home and call us to arrange a contact-free delivery or curbside pickup. We continue to accept orders over the phone or by emailing us, but please note that these orders take 24-48 hours to fulfill.
Bainbridge Gardens is...
...a family-owned garden center located on a historic site on beautiful Bainbridge Island. Our six-acre nursery is well-stocked with large trees, native plants, unusual varieties of shrubs, bonsai, seasonal color, pots and garden art. We also have one of best selections of houseplants in the area. With plenty of parking and an extensive gift shop, Bainbridge Gardens is a popular spot for Islanders and out-of-town guests.