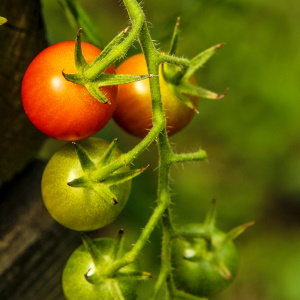 GET YOUR TOMATOES
(while they last)
Tomatoes are selling fast. Yes, it's a strange thing to say in May when it's still a little chilly outside, but things have changed. Our tomato growers now acclimate tomatoes to cooler temperatures, so they are hardier to PNW conditions.
There are a lot of tomato varieties. It's a bit daunting. If you are new to tomato growing, you may want first think about what type of tomato you want to grow. We like to classify them as such:
Cherry/grape tomatoes - Small, sweet, bite-sized tomatoes, usually quite prolific.
Slicing tomatoes - Medium/large tomatoes for sandwiches, salads, or simply dressed with salt and/or olive oil.
Paste/plum tomatoes - Great for sauces and canning, but can be eaten raw too.
You'll also see the terms "determinate" and "indeterminate" on some of the labels:
Determinate tomatoes grow to a fixed size and produce fruit all at once. They generally produce fruit earlier than indeterminate tomatoes. Some busy types don't need support, though cages are still recommended to keep them off the ground.
Indeterminate tomatoes keeping growing and producing fruit until fall frosts. They need supporting, as they can grow quite large.
Semi-determinate tomatoes as you could guess are between the two categories. They may not grow as tall as indeterminate varieties, but they aren't as bushy as determinate tomatoes.
In all cases, you can look at the tags and see how long the variety takes to bear fruit. If you are concerned about your tomatoes ripening in time (which is definitely a concern in the PNW) then you might want to consider determinate varieties, but look at the label. And don't worry, if we have a cool summer, we'll post a recipe in the fall for delicious pickled green tomatoes. ☺
Tomatoes grow great in pots, by the way. Just make sure you have a nice big and deep pot, as those plants can grow really big, the fruit can get really heavy!
One more thing: tomatoes grow adventitious roots. This means that tomatoes (as well as some other plants) can sprout roots on their stems. So, if you have a leggy tomato start, simply bury part of the stem underground with the root ball. This will create a heathy root system, stabilize the plant, and the root ball be able to absorb water and nutrients deep underground and withstand drought better.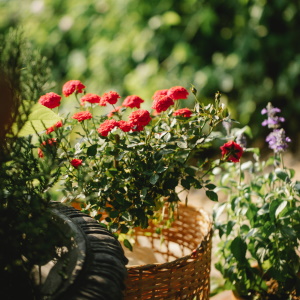 TAKE ADVANTAGE
OF THE SUN
Now that we've seen a little sunshine, that's your cue to get outdoors. Yeah, it's a northwest tradition for late spring to cool down again (you know, "Junuary"), but your plants don't know it!
It's now safe to put out your frost sensitive vegetables: cucumbers, squash, tomatoes, peppers, beans, herbs, etc.
Enjoy the color! The nursery is overflowing with color right now. Flowering cherries, crabapples, rhodies, azalias, dogwoods.
Make your pots pop with summer annuals: petunias, bacopa, begonias, geraniums, lupine, fuchsias, ...
Clean your outdoor furniture or get more. We have cedar furniture, bird baths, solar lighting, garden art, and more.
Tackle those weeds! All of the rain was great for your plants, but also for your weeds.
Now that the temperatures are over 50F, lawn seed can germinate consistently. This is a good time to overseed, aerate, or start a new lawn.
As the blooms on your plants finish, be sure to pick them off to encourage further flowering.
Before it gets hot, work out a watering strategy for the summer. If you were thinking about drip irrigation, set it up before the heat arrives.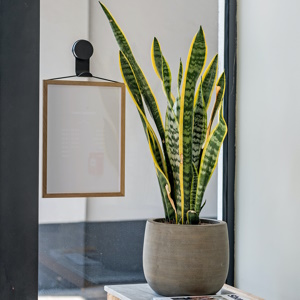 HOUSEPLANTS LIKE SPRING TOO
Now that there's a little more sun and warmer temperatures, your houseplants are starting to come out of the winter doldrums.

As the days lengthen, your plants will start to grow more actively. Check your plants more water a little more frequently now. And you can apply houseplant fertilizer.
Consider the location of your houseplants again. What was a bright location might get too bright during the spring and summer.
If your plants are busting out of their pots, this is now a good time to repot them. We have had several shipments of pots lately, by the way...
Spring cleaning applies to houseplants too! Dust off the leaves, remove decaying leaves, check for pests (they too are awakening).
And consider adding a few new plants to your collection.
SAFETY POLICIES AT BAINBRIDGE GARDENS
Face masks are optional throughout the nursery. We ask that if you are feeling ill and cannot wear a mask, please stay home and call us to arrange a contact-free delivery or curbside pickup. We continue to accept orders over the phone or by emailing us, but please note that these orders take 24-48 hours to fulfill.
Bainbridge Gardens is...
...a family-owned garden center located on a historic site on beautiful Bainbridge Island. Our six-acre nursery is well-stocked with large trees, native plants, unusual varieties of shrubs, bonsai, seasonal color, pots and garden art. We also have one of best selections of houseplants in the area. With plenty of parking and an extensive gift shop, Bainbridge Gardens is a popular spot for Islanders and out-of-town guests.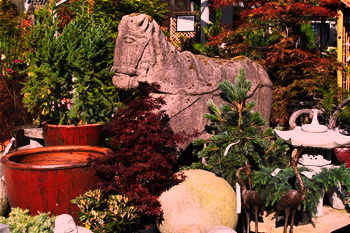 Spring and Summer Hours:
Monday through Saturday:
9:00am to 5:30pm
Sunday:
10:00am to 5:30pm
Closed Easter Sunday, July 4th, Thanksgiving,
December 25 & 31, January 1st.
Email us at:
info@bainbridgegardens.com