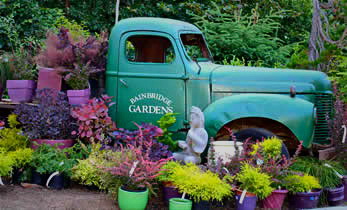 Discover the Natural Beauty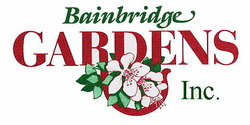 9415 Miller Rd NE
Bainbridge Island, WA 98110
206-842-5888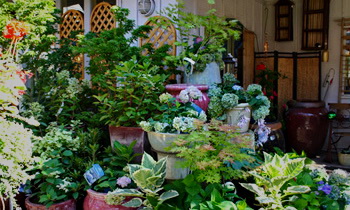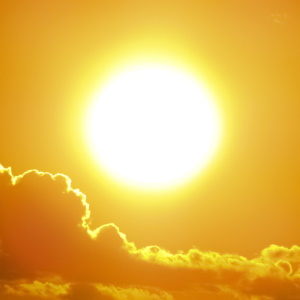 HOT WEATHER ALERT!

With the weather forecast calling for extreme temperatures in the coming week, it's a good idea to get you and your plants ready for it.
Hot weather puts a lot of stress on plants, and in those conditions, plants tend to go into survival mode. You might see your leafy green and cool season vegetables immediately going to seed (bolting) or your tender young plants wilting, slowing down, and generally looking unhappy.
Typical high temperatures for late July are around 75-76F. The forecast is calling for upper 80s and low 90s. So, yeah, not great news for plants, pets, or people.
Anyway, help your plants beat the heat:

Water - Water plants in the early morning or evening. Morning is preferred as watering in the evening can contribute to fungal issues. Younger plants typically have shallower, less established root systems, and may need more frequent watering. Containers don't retain water very well, so they may need to be watered more than once a day. See the article to the right on watering for more tips.
Mulch - Apply mulch to your beds. This helps retain moisture and protects the plant roots from getting scorched.
Shade - Give your garden some shade. Cover tender plants with shade cloth (use stakes so the cloth isn't directly on your plants). Use a patio umbrella to give your containers some shade. Or move the containers to a shady spot.
Hold off on planting, replanting, pruning, fertilizing, etc until the weather cools a bit. The less stress on your plants the better.
Hold off on mowing your lawn or fertilizing it. Watering every few days is a good idea though.
If your home is not air conditioned, made sure your houseplants are not getting too dry. Also, humidity typically goes down when the temperature goes up, so you may want to turn on a humidifier, mist, or place humidity-loving plants on a tray or saucer filled with rocks with water on the bottom.
Take care of yourself and others!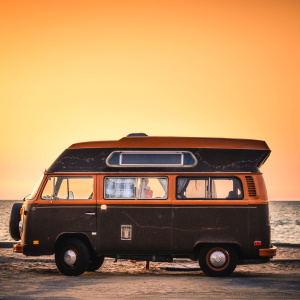 BEFORE YOU TAKE THAT VACATION
Don't forget your plant friends. Unless you are growing plants that like a little neglect (and there really are very few plants like this), chances are you will need to care for your plants if you are gone for more than a day or so. But how to do this?
Drip irrigation with a timer. This is the most expensive way to ensure that your outdoor plants are watered but also the most dependable and precise.
Ask a friend. This is the least expensive (money-wise), but maybe the best if you have an assortment of plants of different types. If you have houseplants, see if you can bring them to their home so they can watch over them.
Soaker hoses with a timer are a great way to slowly and deeply water your established plants.
There are other devices, such as attaching a hose to a rain barrel or turning soda bottles into drip systems. These may work for short trips, but it may not be enough water for a lot of plants.
Keep in mind that plants in containers dry out more quickly, so you may need to give them extra attention. Also, consider moving your indoor plants to areas that won't contribute to drying out, such as vents and bright sunny windows.
Before a short trip, consider watering thoroughly and mulching to keep evaporation to a minimum.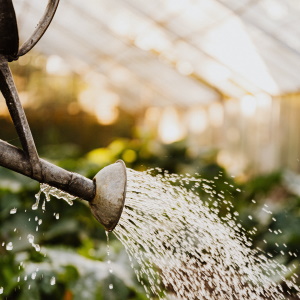 WATER WISEly

Our short summers mean that we need to take advantage of that bright yellow thing in the sky before the clouds return. But don't forget that your plants need help and extra protection to stay healthy in the heat.
Remember that it's all about the roots! Your plants need water at the root level (which is why watering on top of plants is often ineffective). And roots are deep, so you want to provide enough water to reach the roots. But roots also need oxygen, so make sure that your soil drains well.
Here are some general watering tips. Come on in for our more complete free handout on watering.
Watering deeply less often is better than watering shallow more often. After you water, use a moisture tester or put your finger in the soil and see how far down the water went.
When it rains, remember that the amount of water actually reaching the plant roots might be insufficient.
Watering in the early morning or evening minimizes evaporation, but be more careful if you water in the evening, as the lack of evaporation could also increase disease pressure.
Try mulching around your plant beds to slow down evaporation.
Very dry soil may need repeated watering to get the soil to absorb water. If you water an area and the water simply runs off, it's not reaching the roots...
Try a soaker hose or invest in drip irrigation. Not only do these water regularly, they water slowly, which prevents runoff and ensures that water will reach roots.
Remember that drought tolerant plants need water too, just not as often. Also, drought tolerant plants must be established to be drought tolerant (sorry), so they will need to be watered much like other plants for the first few years.
COVID SAFETY POLICIES AT BAINBRIDGE GARDENS
Face masks currently optional throughout the nursery.
We ask that if you are feeling ill or cannot wear a mask, please stay home and call us to arrange a contact-free delivery or curbside pickup.
We continue to accept orders over the phone or by emailing us, but please note that these orders take 24-48 hours to fulfill.
Bainbridge Gardens is...
...a family-owned garden center located on a historic site on beautiful Bainbridge Island. Our six-acre nursery is well-stocked with large trees, native plants, unusual varieties of shrubs, bonsai, seasonal color, pots and garden art. We also have one of best selections of houseplants in the area. With plenty of parking and an extensive gift shop, Bainbridge Gardens is a popular spot for Islanders and out-of-town guests.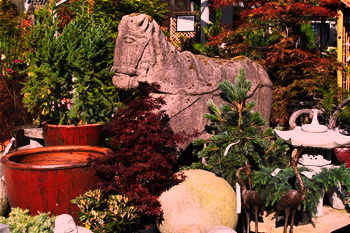 Summer Hours:
Monday through Saturday:
9:00am to 5:30pm
Sunday:
10:00am to 5:30pm
Closed Easter Sunday, July 4th, Thanksgiving,
December 25 & 31, January 1st.

For more information, email us at:
info@bainbridgegardens.com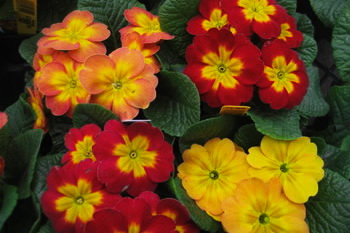 © Copyright 2022, Bainbridge Gardens, Inc. 9415 Miller Rd, NE, Bainbridge Island, WA 98110 206-842-5888. All Rights Reserved.