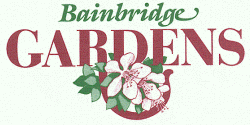 Bainbridge Gardens' 26th Annual Pumpkin Walk
Friday, October 11th & Saturday, October 12th, 2019
6:00 pm – 8:00 pm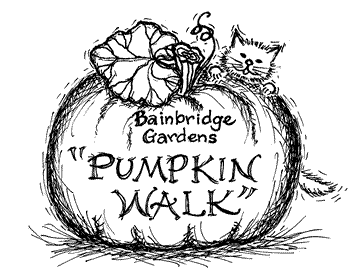 What is
the Pumpkin Walk?
The Pumpkin Walk is a fun, festive, family-oriented event hosted by
Bainbridge Gardens for two nights every October. The proceeds of this popular, non-scary event benefit the Bainbridge Island Boys and Girls Club.
This year, the Pumpkin Walk will be held Friday, October 11 and Saturday, October 12, from 6:00 pm to 8:00 pm at Bainbridge Gardens.
Is there
an admission charge?
There is no admission charge.
There is a suggested cash donation for each attraction to benefit the Bainbridge Island Boys & Girls Club.
What do you do
at the Pumpkin Walk?
Hundreds of people of all ages come to walk along Bainbridge Gardens' historic Nature Trail, glowing with a grand display of nearly 300 lighted, carved pumpkins. For many families, the Pumpkin Walk has become a Halloween tradition.
Kids enjoy winding through our Harvest Hay Maze and jumping in the inflatable Bounce House.
You can have your picture taken with the "Great Pumpkin" (he gives out candy too!) or tap your toes to live music from "Kitsap Konnection"
The Bainbridge Island Boys and Girls Club provides face painting and carnival games with prizes.
Food and beverages are available for purchase from the New Rose Café.
Who carves
all those pumpkins?

We invite and encourage you to bring in a carved pumpkin for the Pumpkin Walk. We have pumpkins and carving tools for purchase at Bainbridge Gardens When you bring in your finished creation, you will receive a small prize for participating. Completed pumpkins need to be dropped off at Bainbridge Gardens by Friday afternoon, October 11th. We'll provide candles.

What do you wear
to the Pumpkin Walk?

This is an outdoor event; please dress for the weather. Costumes are optional.

Where should we park?
There is limited parking on-site at Bainbridge Gardens. A police officer and event volunteers will coordinate parking at Bainbridge Gardens.
Off-site, there will be parking lots designated for Pumpkin Walk guests. These parking spaces are provided to us as a courtesy from neighboring businesses and the City of Bainbridge Island. Some parking lots will have shuttle service provided by the Bainbridge Island Boys and Girls Club. Look for our signs indicating shuttle pick-up/drop-off locations.
We urge you to use caution, especially with young children, on surrounding streets and in our parking lot.

Bainbridge Gardens
9415 Miller Rd. NE
Bainbridge Island, WA 98110
Tel: (206) 842-5888
Fax: (206) 842-7645