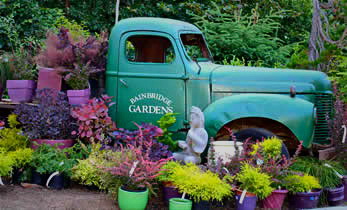 Discover the Natural Beauty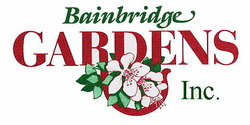 9415 Miller Rd NE
Bainbridge Island, WA 98110
206-842-5888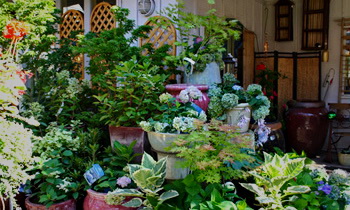 Tomatoes for 2021
Last update: 05/07/21
Tomatoes are very popular, so this list may not reflect the current stock on hand. Note that tomatoes should only be planted outside when the nighttime temperature is 50 degrees or more.
Determinate/Indeterminate:
In the list below, you will see that some tomatoes are determinate and some are indeterminate.
Indeterminate tomatoes will grow and produce fruit throughout the growing season. Because they can be quite tall they will require staking or caging.
Determinate tomatoes stop growing once they reach a certain size. Generally, they produce fruit all at once, which is helpful if you preserve your tomatoes. They are better for containers or smaller spaces. Note that you may still need to stake them if the fruit is abundant or heavy.
Red Slicers
Barred Boar
Pinkish brown with green stripes. Flatten fruit, meaty and flavorful. 8-10oz fruit. 65-75 day. Indeterminate.
Berkeley Tie-Dye Green
Green, yellow, and purple striped outsides. Rich taste. 6-8oz fruit. 75 day. Indeterminate.
Brandywine
Large, pink, delicious. 85 day. Indeterminate.
Caspian Pink
Pink slicer. Large. 80 day. Indeterminate. Heirloom
Cosmonaut Volkov
Delicious heirloom red slicing tomato from the Ukraine. Named for a famous Soviet astronaut. 65 day indeterminate.
Costoluto Genovese
Fluted, old Italian variety with some blight resistance. 75 day. Indeterminate.
Dona
French market variety. Firm, red. 75 day. Indeterminate.
French Carmello
Very thin skin. Delicate fruit. 70 day. Indeterminate
German Johnson
Heirloom. Huge 1lb pink beefsteak fruit with excellent flavor. 78 day indeterminate.
Glacier
2-3 oz fruit. Earliest we've seen at 45 day. Semi-determinate.
Matina
Medium-sized German Heirloom. 70 day indeterminate.
Moskvich
Extra-early Russian heirloom. 60 day. Indeterminate.
Paul Robeson
Russian heirloom. Wins taste tests. 8-12oz fruit. 80 day indeterminate.
Pineapple
Bi-color red and yellow beefsteak. Large fruit. 85 day indeterminate.
Stupice
Czech heirloom. Great taste and production. 55 day. Indeterminate.
Black-Purple
Black Krim
Large dark brown fruit. 80 day indeterminate from Russia. Heirloom.
Black Prince
Russian heirloom. Resists cracking. 70 day. Indeterminate.
Black Sea Man
Russian heirloom. 8 oz. Fruit. 75 day determinate.
Cherokee Purple
Delicious, dark purple shoulders. 75 day. Indeterminate.
Japanese Black Trifele
Pear-shaped 6 oz. fruits. Prolific and tasty. Potato-leaved plants. 80 day indeterminate.
Pruden's Purple
Large to very large fruit, flattended and smooth. Vivid dark pink skin with crimson flesh. Medium tall, potato-leaf plants. 75 day indeterminate.
Purple Brandywine
3 inch lightly ribbed fruit, meaty with good flavor. Pink-purple fruit. 75 day indeterminate.
Ukranian Purple
Meaty 6oz fruit. Sweet and flavorful. Good fresh or for salsa and sauces. 80 day. Indeterminate.
Striped
Green Zebra
Light green with gold stripes. Tastes like a red tomato when ripe. 75 day Semi-determ.
Tigerella
Orange and yellow striped. 65 day Indeterminate.
Yellow-Orange
Jaune Flamme
Orange 2" fruit, borne early, on trusses. Indeter. 75 day. Fruity taste-like sungold
Persimmon
Large burnt-orange fruit. Dense and flavorful. 80 day. Indeterminate
Valencia
Round, smooth fruits avg 8-10oz. Meaty interiors with few seeds. 75 day. Indeter.
Yellow Brandywine
Heirloom. Large yellow-gold slightly ribbed beefsteak fruit. Lovely flavor. 80 day. Indeter.
Marriage Tomatoes - From Territorial Seed - Heirloom Marriage™ Tomatoes!
Big Brandy
Cross of Brandywine and Big Dwarf. 12-15 oz, with distinctive, deeply pleated fruit. Juicy, sweet, and balanced with a touch of acid. 75 day. Semi determinate.
Cherokee Carbon
Cross of Cherokee Purple and Carbon. Dusky blush and rich, delicious flavor. Bulky, slightly squat fruit avg 10-12oz each. indeterminate.
Genuwine
Cross of Brandywine and Costoluto Genovese. Beautiful, slightly squat, globe-shaped tomatoes with the most delectable flavor. 75 day indeterminate.
Marinera-Roma Type
Cross of San Marzano and Cream Sausage. Early and continuous harvests of elongated, meaty, flavorful fruit. Brilliant red. 2-3oz fruit. 75 day indeterminate.
Patio Cherry
Gold Nugget
OSU hybrid, extra early golden fruit. 55 day. Determinate
Tumbling Tom Red
Cascading 1-2oz fruit. Great in baskets. 70 day Determinate.
Tumbling Tom Yellow
Cascading 1-2oz fruit. Great in baskets. 70 day Determinate.
Patio Slicers
Heinz 1439
Heavy yield 6oz crack resistant fruit. Great for canning. 70 day. Determinate.
Oregon Spring
75 day. Determinate. 4 inch red fruit. Great yield.
Siberian
Russian heirloom. Sets fruit at 38 degrees. 50 day. Determinate.
Siletz
70 day indeterminate. Very early 5-7oz fruit.
Patio Roma - Compact
Roma
Hybrid with disease resistance. 75 day. Determinate
Principe Borghese
Great for drying and preserving. 75 day. Determinate
San Marzano
Heirloom, large fruit. 80 day. Indeterminate.
Roma Types - Indeterminate
Amish
Heirloom, large-fruit. 75 day. Indeterminate.
Cherry Roma
Red, plum-shaped 1 inch fruit. Heirloom. 75 day. Indeterminate.
Salvaterra's Select
Plum-shaped 2-1/2 - 3-1/2 inch long, Sweet -eat fresh as salsa. 70 day. Indeterminate.
Speckled Roman
Orange-red, high yield 4-6 inch long. 75 day. Indeterminate.
Cherry and Grape Tomatoes
Brad's Atomic Grape
Lavender and purple stripes, multicolored. Very sweet. 75 days. Indeterminate.
Black Cherry
The first truly black cherry tomato. Sweet and rich flavor. Plant with 'Snow White' cherry tomato for a great color combo. 67 days. Indeterminate.
Chocolate Cherry
Wow! Extremely flavorful , 1" diameter fruits of a dark maroon color are everybody's new favorite tomato. 70 day, indeterminate best planted in full sun.
Chocolate Pear
Red swirled with green and brown. Rich tomato flavor. 70 day, indeterminate.
Green Doctor
Green cherry with sweet flavor. 3/4 inch fruit. 75 day. Indeterminate.
Green Grape
Bred for green ketchup. 65 days. Determinate.
Indigo Cherry Drops
1¼" red fruit with dark black shoulders. Anthocyanin and antioxidents. Indet. 65 day.
Indigo Rose
Darkest black-blue of any tomato. High-anthocyanin content with health benefits. 80 days
Isis Candy
Named for the Egyptian goddess. Sweet, rich and fruity 3/4" yellow-gold w/ red marbling. Very productive. Beautiful 67 days. Indeterminate.
Juliet
Twice as large as the usual 'Grape' tomato. Very productive, 60 day indeterminate.
Lemon Drop
Sunshine-yellow fruit, tart-sweet taste, Heavy-trusses of 3/4 in fruit. 70 day indeterminate
Matt's Wild Cherry
Rampant vine, prolific producer. 65 day. Indeterminate.
Purple Bumblebee
1 inch round/oval purple/red fruit with grey-green stripes. Balanced, complex flavor. 68 day. Indeterminate
Red Currant
Tiny red fruit. 70 day. Indeterminate
Red Pearl
Grape-shaped cherry tomatoes, good flavor and meaty texture. Nearly seedless. Crack resistant. 60 day. Indeterminate
Snow White
Lovely ivory-colored cherry tomatoes ripen to pale yellow, very sweet and complex. Plant w/ 'Black Cherry' for a wonderful color combo. Indeterminate. 75 days.
Sugar Lump
A.K.A. Gardener's Delight 68 day Indeterminate.
Sungold
Most popular tomato we sell. Prolific hybrid, sweet orange fruit. 65 day Semi-deter.
Sun Sugar
62 day indeterminate. Sweet and fruity. Very productive.
Sunrise Bumblebee
Gorgeous striped yellow/red. Sweet and tangy flavor. 1-1/2 in fruit. 70 days. Indeterminate
Sweet Million
Prolific, sweet, popular. 65 day. Indeterminate.
Sweet 100
Very popular, very productive. 65 day indeterminate.
Yellow Pear
Pear-shaped heirloom. 70 day. Indeterminate.
Call us if you have any questions, want to make a phone order, or have a special request: 206-842-5888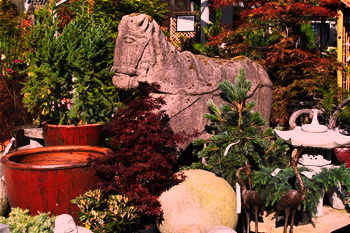 Hours:
Monday through Saturday:
9:00am to 5:30pm
Sunday:
10:00am to 5:30pm
Closed Easter Sunday, July 4th, Thanksgiving,
December 25 & 31, January 1st.

For more information, email us at:
info@bainbridgegardens.com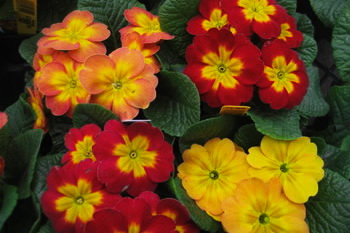 © Copyright 2021, Bainbridge Gardens, Inc. 9415 Miller Rd, NE, Bainbridge Island, WA 98110 206-842-5888. All Rights Reserved.