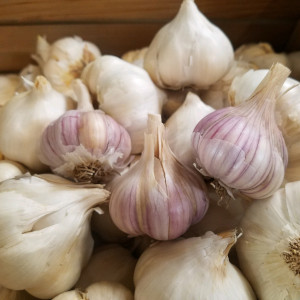 THERE'S STILL TIME
TO PLANT GARLIC
Garlic is relatively easy to grow if you pick a good spot and prepare the soil correctly. You plant it in the fall and harvest at the end of the following summer. As you would expect, you're going to want rich, well-draining soil, so your garlic doesn't rot during the winter. It grows well in a raised bed too.
While that's a long investment of time, the payoff is delicious garlic bulbs next summer...and a harvest of garlic scapes in the spring!
We have several varieties of garlic in stock, some are selling faster than others, so come in soon. We also have onion sets, shallots, and elephant garlic. (By the way, some cold season veggies have just come in, so you might want to pick up a few these as well...)
Why plant garlic? If you've only tasted grocery store garlic, you are in for a treat. Varieties like Chesnok Red and Spanish Roja will blow you away with their gorgeous aromas and depth of flavor. Here's an easy garlic recipe that is twice as good if you use your own garlic: Click Here
Here are the garlic varieties that we brought in this year:
Chesnok Red - Hardneck - Large bulb with 9-10 cloves. Great for baking, won our own taste test of hardneck garlics.
Spanish Roja - Hardneck - Famous for its flavor. 7-13 cloves. Good for colder climates.
Duganski - Hardneck - Violet tinged cloves have a fiery flavor that mellows out to a pleasant aftertaste.
Purple Glazer - Hardneck - Attractive purple color, known for being a great baker. Good for colder climates.
Inchelium Red - Softneck - From Inchelium, WA, mild, but long lasting flavor, won a taste test of softnecks.
Nootka Rose - Softneck - Heirloom garlic from the San Juan Islands. Strong flavor, attractive for braiding.
Want to know more about how to plant garlic? Come on in for a handout.